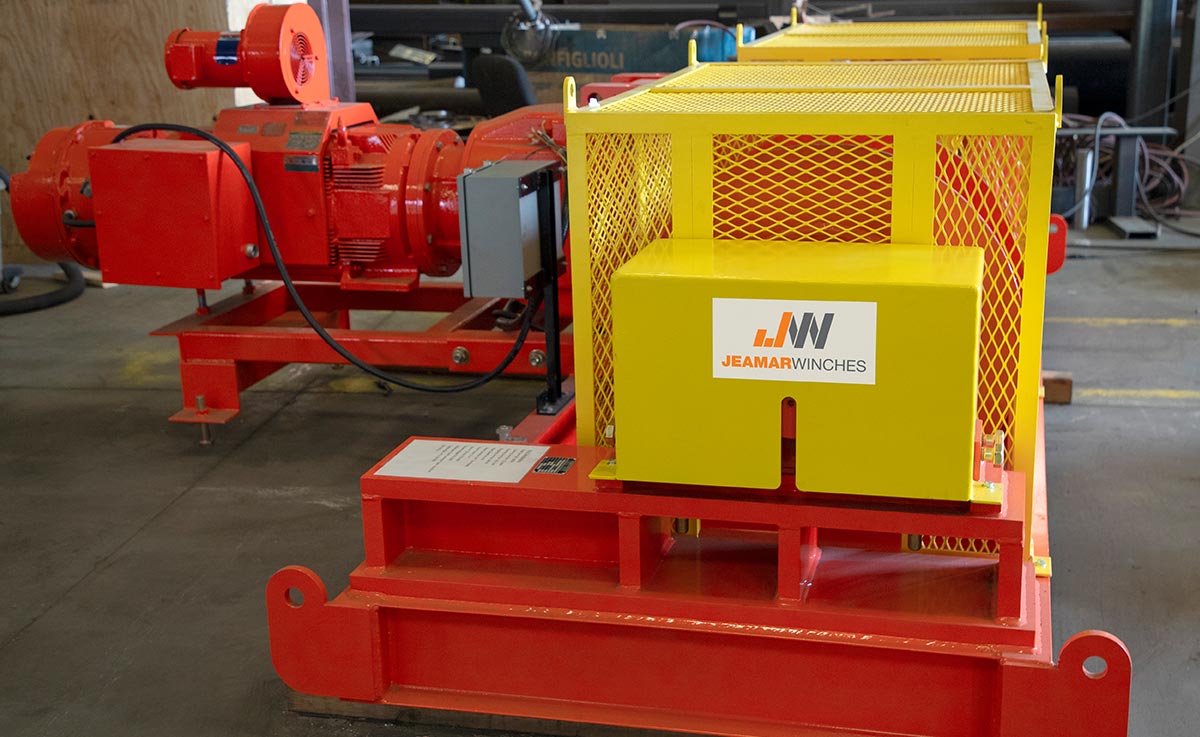 At Jeamar Winches, we are setting the bar as a market leader for industrial winches – and that's something we don't say lightly. Here's the breakdown:
WHY are we leading the winch industry?
With over 40 years of experience producing heavy duty winches, we have fine tuned our process to bring you streamlined results.
Facilities in both the United States and Canada allow us to manufacture a large range of winches including everything from standard to custom heavy-duty winches.
Our winches serve customers around the globe including Europe, North America, South America, Australia, and Asia.
Our range of products is extensive, including power winches, hand winches, air winches, sheaves and blocks.
Every one of our products conform to or exceed the strictest worldwide safety standards. This includesANSI, ASME and DIN.
We are dedicated to providing exceptional service to every client as a world leader in design and manufacturing of winches.
HOW do we achieve such high standards?
At Jeamar Winches, we have the background knowledge to understand what you need. Pulling and lifting power is essential to keep your project moving forward, and it's our job to make that happen.
Constantly building better, stronger, and more intuitive winches is what we do. This is what we live and breath for and our passion translates to the best products for our customers.
We have a team of highly skilled and trained engineers that work closely with our research and development team. Jeamar Winches is always pushing forward to find winching solutions that overcome the challenges for your industry.
WHO do we serve?
Industrial – Pulling between 2,000 to 100,000 lbs., our Industrial Winch can be custom built to meet the needs of your application.
Mining – The best performance on the market, Jeamar Mining Winches have been developed, installed, and tested in real working mines and thrive in harsh environments. They are specifically built to handle your pulling and lifting applications throughout the mine with top quality performance.
Marine – From capstan winches to barge and traction winches, we specialize in custom built marine solutions with unrivaled quality and service behind our products.
Rail – Get the right tool for the job with Jeamar's Rail Winches. Specifically designed to withstand extreme weather and harsh environments they continue to excel under the toughest conditions.
At Jeamar Winches, we are honoured to be a trusted provider of pulling winches, lifting winches, capstan winches, air winches, luffing/shuttle winches, hand winches, and custom winches to well known companies from around the globe. Our list of clients includes Boeing, Petro Can, Sunoco, USA Military, Imperial Oil, Chilean Naval Base, Texas Department of Transportation, DMC mining and many more.
Trust Jeamar Winches to find your custom winching solution!
Back